No Nigerian man in World Athletics' top 100 overall ranking
Chukwuebuka Enekwechi is top ranked African in events ranking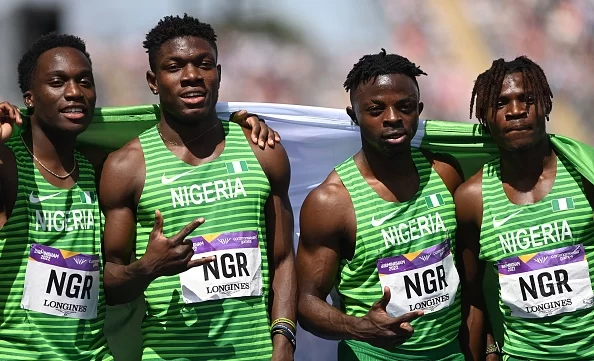 With the 2022 athletics season on the home straight, no Nigerian man made the top overall men's 100 ranking in the latest
weekly world ranking released by World Athletics mid-week.
While the women's folk through reigning World 100m hurdles champion, Tobi Amusan and World indoor and outdoor long jump
silver medalist, Ese Brume feature in the top 100m ranking with the former even ranked as high as fifth, the Nigerian men are nowhere near the top 100 in the overall world ranking.
World Athletics has undertaken to create a global ranking system where athletes score points based on a combination of
result and place depending on the level of the competition in which the result is achieved.
The ranking is then based on their average score over a certain number of competitions in a defined period of time.
In fact, only Chukwuebuka Enekwechi made the top 20 in his event ranking. The World Athletics Championships Shot Put
finalist is ranked the 14th best in his event.
Reigning Nigeria 100m king, Favour Ashe tops the list of four Nigerian sprinters that made the top 100 ranking list in the blue ribband event.
The 20 year old who has just transferred from University of Tenneessee to Auburn University in the United States of
America is ranked the 26th best 100m runner so far this year.
The other three Nigerians listed in the ranking are Raymond Ekevwo (31), Ushoritse Ishekiri (61) and Alaba Akintola (64).
In the 200m, former World U-20 champion, Udodi Onwuzurike is the top ranked Nigerian in the event. The 19 year old is
ranked the 28th best so far with Akintola, the second Nigerian ranked in the event coming in as the 46th best.
New Nigerian record holders in the 400m hurdles (Nathaniel Ezekiel) and Javelin (Nnamdi Chinacherem Propser) also made it
to the top 100 list of ranked athletes in their respective event.
Ezekiel, who ran 48.42 seconds to break the 35 year old 48.50 Nigerian record held by Henry Amike is ranked the 49th best
while Nnamdi, who also broke a long standing record (22 years) with his 81.22m throw in the Javelin event last May is ranked the 40th best.