Noah Lyles: Fraser-Pryce can break world record this season
As Jamaican returns to Diamond League action after injury setback in Lausanne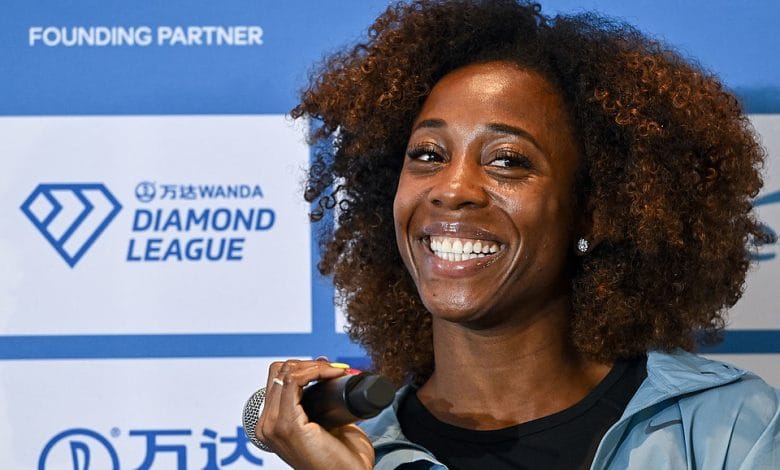 American 200m sprinter Noah Lyles believes Jamaican sprint star, Shelly-Ann Fraser-Pryce is capable of breaking Florence Griffith-Joyner's 10.49 seconds 100m world record this season.
According to Lyles, this season could see Fraser-Pryce breaking the 100m world record.
Fraser-Pryce will be one of the star attractions on Friday at the Allianz Memorial Van Damme Diamond League meeting on Friday in Brussels, Belgium.
"I heard that she said she wanted to break the world record this year and I'm like 'yeah, I can see that.'
'Consistently dropping 10.6 like almost every race, that's very scary because anytime you see somebody run a time, almost the exact same time very consistently every race, that means that they're about to make a huge drop," Lyles said.
At the pre-meeting press conference, Fraser-Pryce said she is in very good shape.
The Jamaican raced to a fifth world title in the 100 metres at the start of this summer and, at 35, feels fitter and sharper than ever.
"I feel so good that it would be a shame not to run here and take advantage of that good feeling. I did have a small muscle contracture in Lausanne but it is not that bad and my tests on Wednesday and Thursday morning were good," the Jamaican reassured everyone at the press conference.
"I am really looking forward to running at the Memorial tomorrow (Friday)," Fraser-Pryce continued enthusiastically.
"I am consistently running a very fast season with times ranging between 10.60 and 10.70."
Does she think Florence Griffith-Joyner's long-unapproachable world record (10.49) is within her grasp?
"My PR is 10.60 and I firmly believe that a few hundredths more can be shaved off. And once you run times like 10.50 … Then everything is possible. She has at least two more years to realise her world record dream, as Fraser-Pryce wants to continue until at least the Paris 2024 Olympics.
"I'm really just waiting for Shelly to have that moment when her body is ready, the day is right, the crowd is there, the wind is perfect and I'm not gonna be shocked when that world record pops up or it's right next to it or way ahead of it."