Obajimi: Sydney Mclaughlin Vs Femke Bol Rivalry Will Headline Great Rivalries Expected To Light Up 2023 Outdoor Season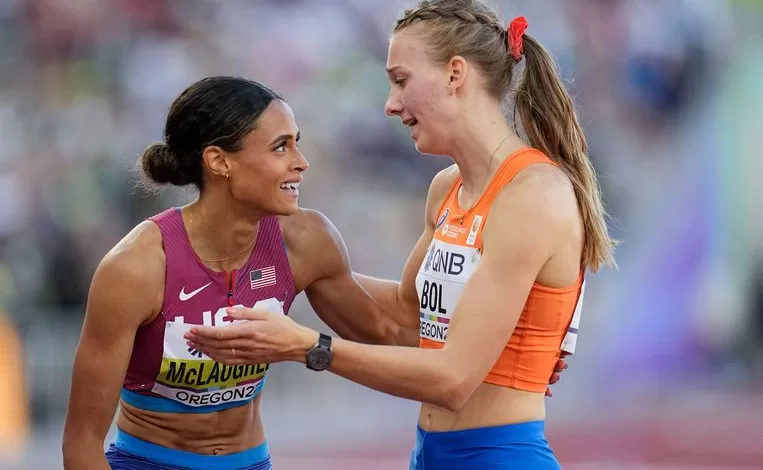 An interesting rivalry that may define the 2023 outdoor season and lead to the biggest battle for supremacy at the World Championships in Budapest, Hungary in the summer is building up between reigning World 400m hurdles champion and record holder, Sydney Mclaughlin-Levrone and Dutch sensation, Femke Bol.
Bol has been phenomenal in the indoor circuit this season and ran 49.26 to break Jarmila Kratochvilova's 41 year old 400m world indoor record (49.59) at the Dutch Indoor Championships in Apeldoorn on Sunday.
Rotimi Obajimi, a former technical director of the Athletics Federation of Nigeria, AFN, says the athletics world should brace up for one of the rivalries that will define the 2023 outdoor season.
'From the way Bol has been running, one can easily deduce she is going for Sydney Mclaughlin-Levrone's incredible 50.68 world record set at the World Athletics Championships in Oregon last year,' said Obajimi.
Obajimi, who was also once a World Athletics lecturer and course director believes the American anticipated this hence her decision to switch to Bob Kersee's training camp.
Kersee is one of the premier sprints and hurdles coaches in the world who has guided numerous athletes to Olympic, World, U.S. and NCAA titles.
He is also the husband of the great heptathlete and long jumper, Jacqueline Joyner-Kersee.
'The plan is to improve on her speed,' said Obajimi who believes both athletes are preparing to face off at the Budapest World Championships.
'Last year, both Sydney and Femke met only once and that was at the final of the Oregon World Championships where the American ran that phenomenal, (Florence Griffith-Joyner) Flo Jo-like time to win and set a world record.
'Interestingly, that was the only race the Dutch lady lost as both didn't meet in the circuit, especially in the Wanda Diamond League which the 23 year old Sydney snubbed in 2022.'
Obajimi is confident the duo will try to avoid each other in the circuit this year until the Worlds in Budapest.
'Sydney has been dominating the 400m hurdles scene since 2021 and has been undefeated over the distance in 15 races (seven in 2021 and eight in 2022) while Bol also won 10 of her 11 races last year.
'The 2023 season will be very interesting with the number of rivalries building up,' he said and believes it will evoke memories of the rivalry between Turinesh Dibaba (Ethiopia) vs Meseret Defar (Ethiopia) in the 5,000m.