Ofili happy to win SEC title, says the fast time will come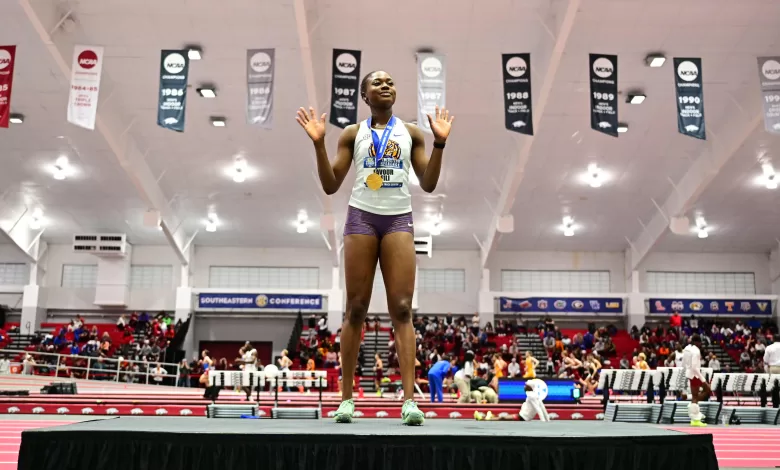 Favour Ofili says she is delighted to win her first Southeastern Conference, SEC, title in two years after reclaiming the 200m title she lost last year to Abby Steiner.
The Nigerian stormed home first in 22.52 to win at the Randal Tyson Track Center on the University of Arkansas campus in Fayeteville, Arkansas, venue of the 2023 edition of the championships to seal her place in next months's NCAA Division 1 indoor championships at the Albuquerque Convention Center in Albuquerque, New Mexico.
'It's good to come here here to win the gold,' said Ofili in a post race video interview posted on her school, University of Louisiana's official twitter page.
The 2022 Commonwealth Games silver medalist in the 200m was the cynosure of all eyes at the championships and she was expected to maintain the tradition of setting new Nigeria nay African record at every SEC championships.
She did it in her debut at the championships when she made history as the first Nigerian to go under 23 seconds in the half lap event. She ran 22.75 seconds to win the gold medal incidentally at the Randal Tyson Indoor Center in Fayetteville, Arkansas, the same venue where she has reclaimed the title.
Last year she ran even faster,stopping the clock at 22.46 but Abby Steiner's NCAA record-setting 22.09 run denied the Nigerian of a successful title defence.
'I understand the time isn't that fast but we are working on getting faster. The time is going to show one day,' said Ofili who just over 13 days ago ran 22.36 to set a new African 200m indoor record which moved her to sixth in the world all-time list.
'I am happy I am living here with something,' said the Nigerian who reveals she will be ready for the trip to the Albuquerque in New Mexico next month for the NCAA indoor championships.