Ofili Named SEC Weekly Runner Of The Week Again
Nigerian shares honour with fellow LSU athlete, 800m runner Rose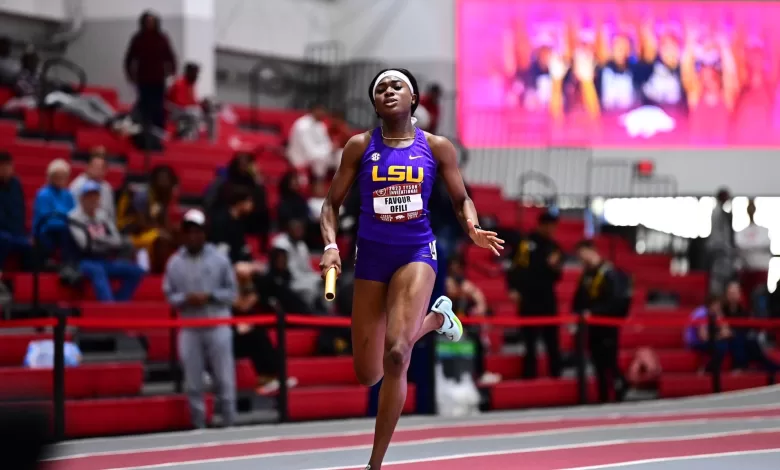 Louisiana State University, LSU's, Favour Ofili has been named South Eastern Conference, SEC, Co-Women's Runner of the Week with schoolmate, Sophomore Michaela Rose who set a new LSU record and nation-leading time with 2:00.18 in the 800m.
Ofili received her second weekly honour of the season from the SEC after she ran the second-fastest 200m time in collegiate history at the Tyson Invitational.
Her time of 22.36 was a meet record, facility record, African record, national lead, and world lead. She also ran a personal-best time of 7.15 in the 60m final, which ties for fifth on LSU's all-time performance list with Muna Lee.
The Nigerian got her first weekly honour last week after running a time of 22.55 seconds to take first place in the women's 200m.
She followed that performance up with a bronze worthy finish. Ofili ran a time of 7.25 in the preliminaries and then followed it up with a time of 7.21 in the finals of the 60m. Her time of 7.21 adjusts to 7.23 for altitude and ranks just outside of the top-10 at 11th in the USA.
Ofili was earlier last month among the 10 athletes named to the in-season edition of The Bowerman Watch List after running what was then the fastest time in the USA at the Razorback Invitational in Fayetteville, Arkansas at the end of January.
Her blazing time of 22.53 earned her first place at the meet for the 200m and shredded the previous Razorback Invitational record of 22.72 seconds set in 2016.
She went on to run the second leg in the women's 4×400-meter relay the next day and pushed the Tigers to the fifth-best time in the nation. The team's time of 3:29.94 was less than a second away from LSU's all-time record. Ofili led the way for the Tigers with a split of 51.13 seconds.