Okocha set to be the hero of a new animated series on Showmax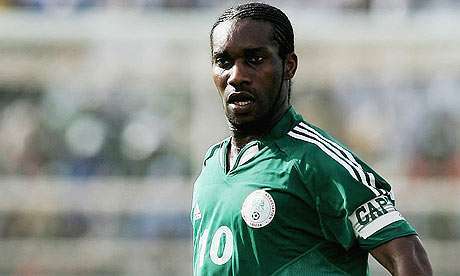 Former Nigeria captain Austin Jay-Jay Okocha is the hero of a new animated series which follows his childhood, according to the Dailymail.
'Jay Jay: The Chosen One' series will pay homage to the Super Eagles star's stellar career, with Okocha saying he is 'honoured… and grateful' to be the subject of the series.
He said: 'I'm honoured to have an animated series that reimagines my childhood.
'Jay Jay: The Chosen One is going to bring back good childhood memories as well as inspire young children who have dreams to be football players.
'I'm excited about the show and grateful to Showmax and the production team who worked hard to bring it to life.'
The 'reimagining' of Okocha's childhood will be African streamer Showmax's first animated series.
They added in a statement: '(The show will) give Nigerian children of all ages the opportunity to see themselves represented in animated form which is positive, humorous and educational' and 'enchant and motivate kids across our continent through fantasy adventures as well as the power of sport.'
The 13-episode show will follow him as an 11-year-old who dreams of playing for his school at a football tournament with his mates and is given superpowers by the animal kingdom because he fights against illegal poachers.
Showmax CEO Yolisa Phahle concluded: 'This is a show we believe will find audiences globally and shines the spotlight on yet another world-class African achiever that we hope will be enjoyed by kids and the entire family.'
Okocha who scored 14 times and bagged 11 assists in 124 Premier League appearances is widely considered one of the best African footballers of all time.