Osimhen: 'I think it is an ambition of all players to play in the EPL, but..'
Says Napoli players sacrificing everything to win the Scudetto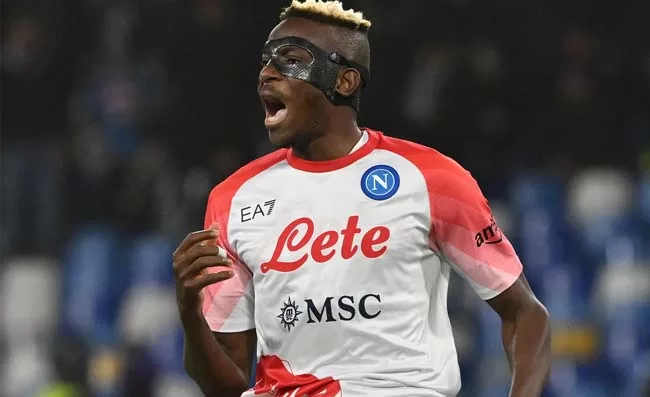 Napoli forward Victor Osimen has told Italian news oulet, Corriere della Sera he has the ambition of playing in the Premier League but he is not thinking about doing that just yet.
The Nigerian told the newspaper in an exclusive interview his focus now is on leading Napoli to win their first Scudetto (Italian league title) since 1990.
"I think it is an ambition of all players. And who knows, one day. Right now, I assure you, it doesn't even cross my mind. It would distract me from a beautiful season. [I'm thinking of] Only Napoli," the 24 year old was quoted to have said by the newspaper.
Like Diego Maradona did when he scored 16 times and provided 10 assists in 28 games to lead the Paternopei to their second Scudetto in the 1989/90 season, Osimhen is also spearheading the club's title chase with his 19 goals and four assists in 20 Serie A games. The goals are the most scored by any Napoli and Serie A player so far this season.
Asked if he and the other Napoli players are already thinking about winning the Scudetto, he replied in the affirmative.
"We are in March and there is still time ahead. But, yes, I want it all, we want it all. We are giving our lives to achieve this success. We deserve it, we are sacrificing everything to achieve it. We are almost there, but woe to get distracted right now. Our mentality is always the same, in Italy and in Europe: impose ourselves and win".
Osimhen also revealed the secret behind their incredible season so far and their conviction.
"We take care of each other, at all times. Each one gives the other a boost, and if someone is in difficulty we are ready to lend him a hand. There is solidarity, difficult to explain to those who don't experience it. The conviction everyone's needed for the community. And when you believe in it you feel strong, when you are strong you win.'