Osimhen promises goals against Guinea-Bissau, targets AFCON 2024 ticket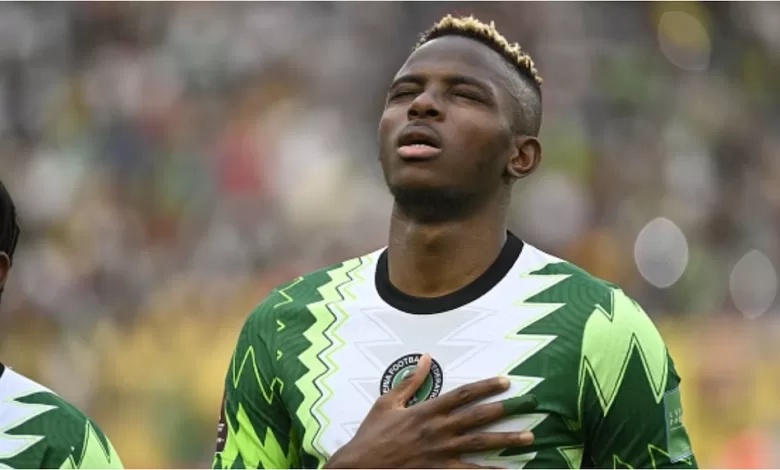 Napoli hitman Victor Osimhen has promised to deliver the goals when the Super Eagles face Guinea-Bissau in a two-legged 2024 African Cup of Nations quaification games over the next five days.
Nigeria will host the Djurtus of Guinea-Bissau on Friday at the Moshood Abiola Stadium before visiting the Estádio 24 de Setembro in Bissau on Monday for the return leg.
Osimhen who scored four times last June when the Super Eagles played their second game of the group in their AFCON 2024 campaign with a record-setting 10-0 defeat of Sao Tome and Principe to take his total goal haul so far to five says the Super Eagles are ready for the Djurtus.
'I am happy to be back with the squad. It's an amazing feeling to be back with the boys.
'We are looking forward to the games against Guinea-Bissau on Friday and we are expecting amazing results in the two legged games,' said Osimhen who has scored 25 times across all competitions so far this season for Napoli in the Serie A and Europe.
The 24 year old is quite aware the visitors who are second behind the Super Eagles in the group are ranked much lower than the Nigerians but says they will not underrate them.
Djurtus are ranked 29th in Africa and 118th in the world while the Super Eagles are the 35th best playing nation in the world and fifth in Africa.
'We won't underrate our opponents, we will give them the respect they deseve,' promised Osimhen who expressed their readiness for the double header.
"Of course the boys are ready, we are ready to give our all on Friday and in the second leg on Monday. We will try to win and I want to promise I will contribute with goals and assists.'
Osimhen is particularly pleased with the support they have received from Nigerians despite not qualifying for the 2022 World Cup and their failure to win the AFCON also last year.
'I want to thank the fans for their support through the years, we may have let you down in the past but I want to say we will make you happy again win your support back,' he said promising that the Super Eagles will seal the ticket to next year's AFCON after the games against Guinea-Bissau.
Osimhen's five goals in the competition is the most scored by any player so far and the Napoli will want to add to that over the two legs to also finish as the top scorer.