PANASA President Adegbesan Honoured With Maiden EEAST Legacy Award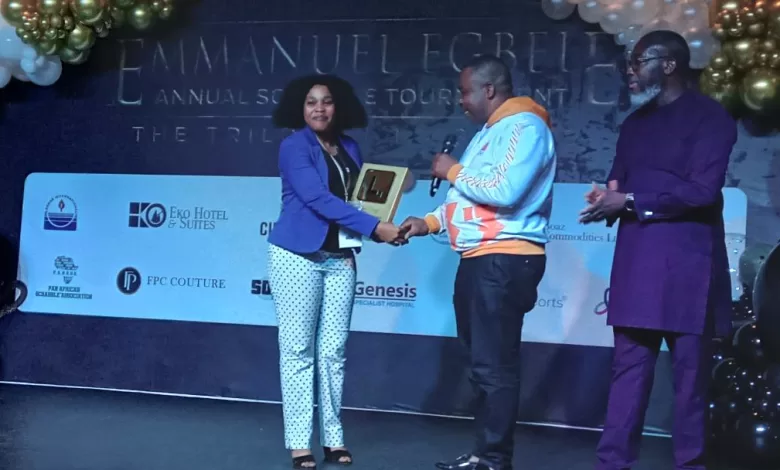 Pan Africa Scrabble Association (PANASA) President Adekoyejo Adegbesan has been bestowed with the first Legacy Award instituted by the Emmanuel Egbele Annual
Scrabble Tournament(EEAST).
The EEAST Legacy Award was created by the organisers as a symbol of recognition for an individual for their selfless and impactful contributions to scrabble.
According to founder of the EEAST Emmanuel Egbele, Adegbesan's emergence as the first winner of the Legacy Award went through a thorough process of
selection.
Nominees were chosen through forms distributed to and filled by members of the scrabble community before the top five names at the end of the collation were
selected.
This set of five individuals was then voted for by a selection of highly regarded personalities in the sport.
Adegbesan's advent at the helm of the continental body PANASA has re-ignited a bright beacon of future for the sport.
For the first time, two new tournaments; the President's Cup and the Dr. Winifred Awosika Africa Youth Scrabble Championship would be contested for by elite
players, young adults and school children across Africa come August in Lagos.
He also embarked on Trophy Tour of some countries in Africa using the AYSC to reawaken the huge potentials and benefits scrabble bears for communities.
On the home front, The Sheikh as he is well known and his team, turned around the playing infrastructure and invested in players in Ogun State, South-Western
Nigeria where he oversees the Association as the chairman.
Speaking through a pre-recorded video on a projected screen, Adegbesan said he was surprised by the accolade as he was only informed on eve of the ceremony.
He appreciated the honour bestowed on him as this gesture would spur him and his team to expand the spectrum of scrabble.