President Buhari Rewards Commonwealth Games Heroes With National Honours, N200m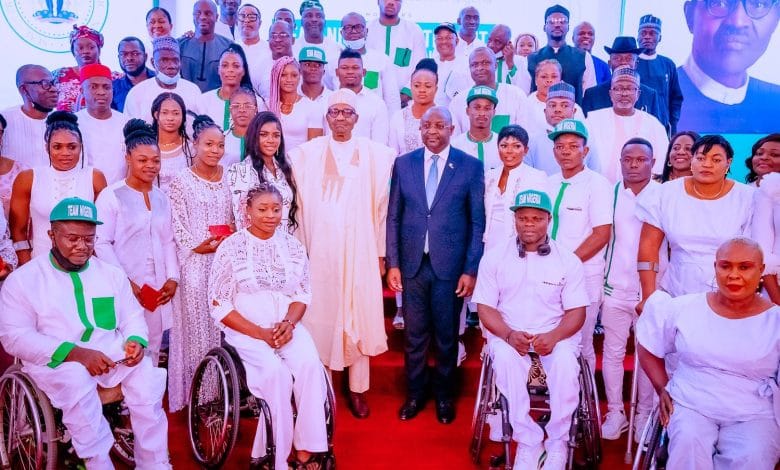 President Muhammadu Buhari has rewarded Nigeria's contingent to the XX11 Commonwealth Games in Birmingham with national honours and N200m.
The President made the pronouncement Thursday at the Aso Rock Villa in Abuja where he held a grand reception for them.
'I welcomed Team Nigeria, our heroes and heroines of the 2022 Commonwealth Games, to the State House today. I have approved the conferment of National Honours on them, in addition to Cash Awards totaling N200 Million. We are proud of them,' wrote Buhari on his verifierd twitter handle after the reception.
The President hailed the athletes for contributing their quotas as the strive to deliver a better Nigeria is a continous one.
"The hard work to deliver a better Nigeria continues, building on the foundations of peace, rule of law and opportunities for all. We have no other motive than to serve Nigeria with our hearts and might, and build a nation which we and generations to come can be proud of.'
President Buhari says the athletes performance in Birmingham and indeed all other sporting events in the year align with the determination to deliver a new Nigeria.
"Your outstanding performances in recent times are consistent with the determination of a nation always yearning for excellent performance.
"You all, members of Team Nigeria have ignited the spirit for victory in Nigeria. I am very pleased,' he further tweeted.
"Twelve times the world stood still as our green-white-green was hoisted and the National Anthem recited.
Thirty-five times we made it to the podium. #TeamNigeria made that possible. They brought us glory & honour. On behalf of the entire nation, I say, THANK YOU!.
"Tobiloba Amusan, our dear World Champion; Ese Brume, Blessing Oborodudu, Folashade Oluwafemiayo, Taiwo Liadi, Ikechukwu Obichukwu, Bose Omolayo, Favour Ofili, Nasiru Sule, Ifechukwude Ikpeoyi, Ebikewenimo Welson, Hannah Reuben, Elizabeth Oshoba — all gold winners!
"We celebrate every one of them, and say a big THANK YOU for registering Nigeria's name in the global world of champions, at the Commonwealth Games 2022 #Birmingham2022 and at the World Athletics Championships 2022 #WCHOregon22."
The President also commended Youth and Sports Development Minister, Sunday Akin Dare for a job well done.
"The many giant strides witnessed in the Sports Sector are worthy of commendation. I commend the Honourable Minister of Youth and Sports Development, Sunday Dare and his team for the numerous and sustained successes that have been recorded under this administration."