Rivers Angels pick all points in Osogbo in front of Governor Adeleke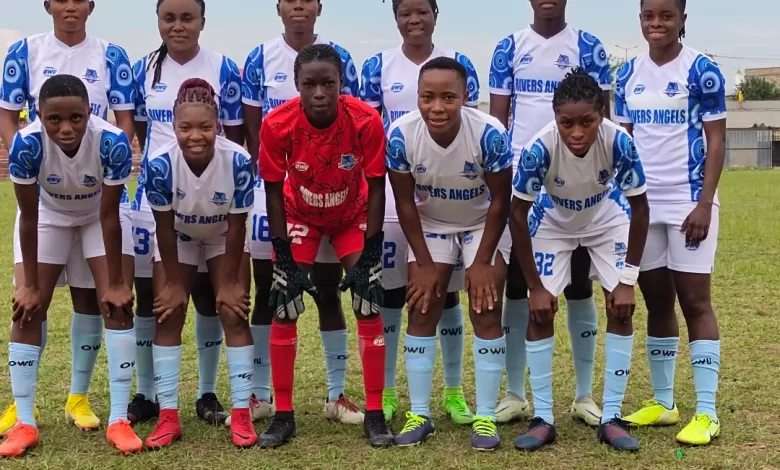 Rivers Angels came out the better side on match day 10 of the Nigeria Women Football League Premiership when they faced Osun Babes at the Osogbo Township stadium.
The presence of the Executive Governor of Osun State, Ademola Adeleke and his Deputy did not stop the resilient Angels from taking all maximum points in a 1-2 win over their hosts.
Angels' forward, Chiamaka Okwuchukwu opened scoring in the 3rd minute with a superb finish having intercepted the ball from an Osun Babes player outside the box.
Oghenebrume Ikekhua then doubled the lead for Edwin Okon's side just before halftime with a tap in off Adaobi Okah's header.
Hosts Osun Babes pulled one back in the 58th minute when Olamide Bolaji converted from the penalty spot but it was not enough to stop the Jewel Of Rivers from running away with all points as they held on to push back every pressure from the home team.
Head Coach of Rivers Angels, Edwin Okon was excited after Wednesday's victory and praised his girls for their doggedness.
"We came into the game with our minds set on picking all three points here today and I'm glad we got that at the end of day. It was a very good game and good fight from my girls despite how fatigued they were coming into today's tie.
"I am happy with the team, it is done and dusted here, we are now shifting our attention to the next game which is in Abuja against Naija Ratels. We need to consolidate on this win come next week.
"The arrival of the Osun State Governor even gave my girls more reasons to fight harder to ensure they taste defeat in front of their fans," he added.
Also speaking after Wednesday's victory is Rivers Angels midfielder, Alvin Dah-Zossu who said it was not an easy win.
"It was a tough game but we gave in our best and I thank God for the victory we were able to get today in Osogbo.
"We played to instructions today and throughout the duration of the game, we kept telling ourselves that we must win because we want to seal our Super 6 qualification.
"Next week's game against Naija Ratels is a must win and we are already looking forward to it and we will do all we can to win," she said.
The New Vision Queens will be on another trip next week as they face Naija Ratels in Abuja.