Ronik School Joins Football Institution, Teams Up With Elite Soccer Development Academy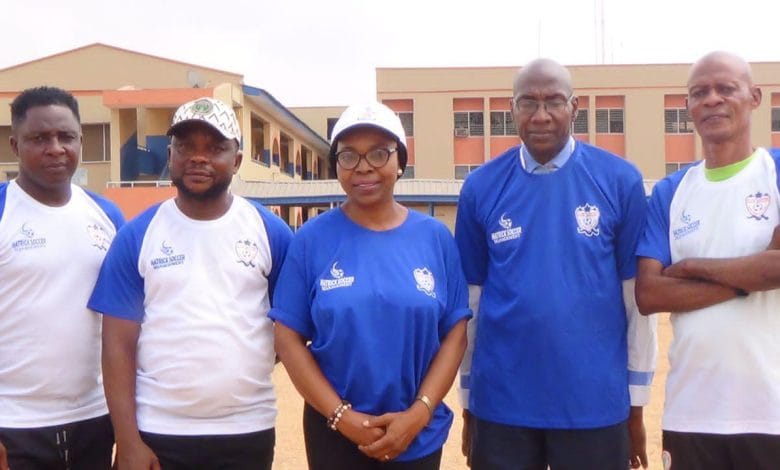 Ronik Comprehenaive School, the Secondary arm of Ronik Polytechnic, Ejigbo, Lagos, has joined the league of academic and sporting citadel institutions with the unveiling of partnership with Elite Soccer Development Academy, also in Lagos.
Brokered by Hatrick Soccer Management, the partnership deal between Ronik Comprehensive School, Ejigbo, and Elite Soccer Development Academy, Lagos, will see the students combine their academic studies with football with a view to horning their skills not only in the field of education but also in soccer which has proven to be the king and most popular and rewarding sport.
It is also aimed at helping young players realise their dreams of becoming professional footballers.
While honing their skills in the round leather game, the kids will also have the opportunity of combining that with their education.
Mrs Victoria Duru, Principal of the school, speaks volume of the venture.
"We want our children to become international stars which will also reflect on the profile of the school.
"When they speak about them in future, they will also mention the name of the school," principal of Ronik Comprehensive High School, Victoria Duru, said during the unveiling ceremony.
"This is exposure for the school, the children and their parents.
"We know this is an expensive venture, but good things come at a cost and as a school we are passionate about quality.
"As much as we don't want to drain the pockets of our parents, we also appreciate good things.
"Our parents too want to spend on quality things. They want to see their children become successful in future which is one of the key reasons we have this academy in the school.
"We must appreciate the parents for their positive response so far. They have had several experiences about different academies in the past, so many unpleasant stories.
"The fact that it is Ronik Comprehensive High School and Hatrick Management, they are confident they will get the best now and in future.
"We have well trained professionals in charge of the academy, certified coaches, who will get the best out of the children."
To avoid obstruction with players' study, the football-training session will hold every Saturday of the week.
Based on the player study timetable and individual player development plan, other sessions like fitness drill and match analysis would be held during weekdays.
Kingsley Igwe, a former Enyimba of Aba assistant coach who owns Elite Soccer Development Academy said he was delighted with the whole project.
"Combining education with soccer makes the child a better person.
"All works and no play, they say, makes Jack a dull boy. But at Ronik/Elite Soccer Development Academy the best of the kid in academics and soccer is assured", Igwe said.