Spalletti: 'Once Osimhen gets his emotions sorted out, he will become extraordinary.'
Nigerian scores from the tightest of angles to give Napoli 11th straight win in Serie A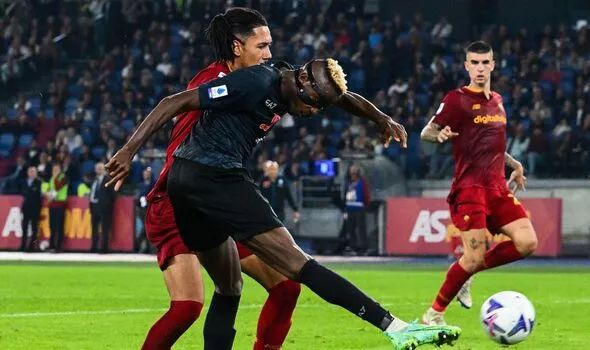 Napoli coach Luciano Spalletti has hailed Victor Osimhen after the Nigerian struck late to give Napoli their 11th win in 11 Serie A games so far this season.
The 23 year old Nigerian scored his first goal against Jose Mourinho and AS Roma in his fourth appearance against the capital side with a stunning strike from an
improbable angle.
A long, hoisted ball by Matteo Politano in behind the Roma defence was seemingly heading nowhere before the electric acceleration of the Nigerian turned a nothing ball
into something.
He then showed phenomenal strength to shrug off former Man United defender Chris Smalling before rifling home from the tightest of angles.
After the game, a delighted Spalletti says the Nigerian can still get better .
'Once he gets his emotions sorted out, he will become extraordinary,' said the Napoli manager.
'Osimhen has these sudden changes of pace that only he can do. When he gets his emotions sorted out, he will become extraordinary.'
What can the Nigeria international be missing that could make him even stronger?
'At times he tries to do everything himself, attacks the ball and the goal without realising where his teammates are. But he is physical, he is strong and we need him
to complete the squad, also in the air.
'He is one of the best headers of the ball I have ever seen. We didn't give him as much service last season, but he was also decisive when defending on set plays and
resolving a lot of issues for us there.'
Osimhen strike is his fourth in the Serie A this season in seven games and 28 in 58 games for Napoli.
He has now tied Obafemi Martins as Nigeria's second joint top scorer in the competition and three goals shy off the 31 Simy nwankwo scored to become Nigeria's all-time
top in the Italian topflight.