Supporting Arsenal can lead to Heart Attack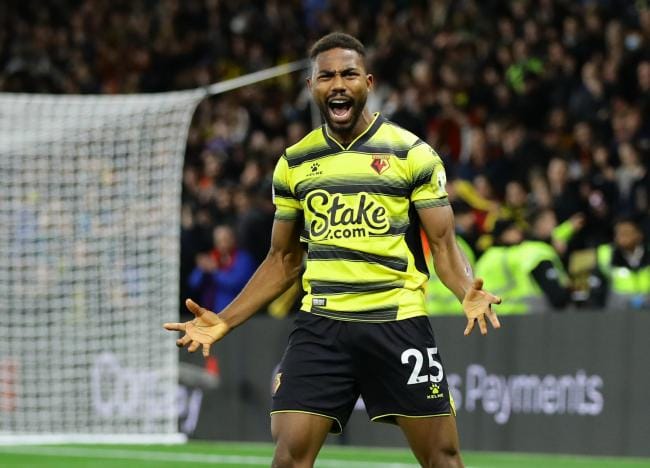 Watford forward Emmanuel Dennis says stopped supporting Arsenal because he does not want a heart attack.
The former Club Brugge player told Skysports in an interview he used to be a strong Arsenal supporter but he had no choice but to renounce his support for the club due to the Gunners' inconsistency since they last won the Premier League title 17 years ago.
The former Club Brugge of Belgium also revealed he actually wanted to become a priest…
From dreams of being a priest to becoming a player:
"No, I never dreamed of being a professional football player. I wanted to be a priest but today I'm a baller.
"I grew up in a family that believes so much in God, and going to church. As a young boy I'd go to church and admire the priest, and I was like, 'yeah, I want to be a priest'.
I was 13 or 14 "I was growing up and I was good at football and everyone was telling me, 'you should be a footballer because you play really good'. And my family were like, 'no he needs to go to school'. And then they were like 'OK…' and they pushed me and I'm here."
On wanting Ranieri to take him to Salt Bae's Nusr-Et when Watford keep a clean sheet:
"He promised for every clean sheet a dinner. And I walked up to him after the Man Utd game and said, 'you need to pay for dinner' and he said, 'it wasn't a clean sheet!'. I said, 'you're lucky but we'll try next week to keep a clean sheet so you can pay for dinner'. A very expensive one! I like meat, so it's going to be Salt Bae… that one's expensive.
"He's a very experienced manager, he's won the Premier League before. He's very good. You can see his mentality is 'hard work and give everything on the pitch'. You can see he's impacting the team positively. We just have to listen more to him and try to understand his style of football in a very fast way, which we really need to. But he's very good, I'm happy he's here."
On why he no longer supports Arsenal:
"I used to be an Arsenal fan. I like Cesc Fabregas. But I'm no more an Arsenal fan. I was so much into Arsenal sometimes I could cry when they lose. That wasn't good for me.
"So I was like, 'nah, I'm going to stick to myself and don't care much because it's not good for my health'. It's just me and myself right now."