Timothy Weah Fulfils His Father, George Weah's World Cup Dream!
Nigeria denied George Weah best chance of making it to the 2002 World Cup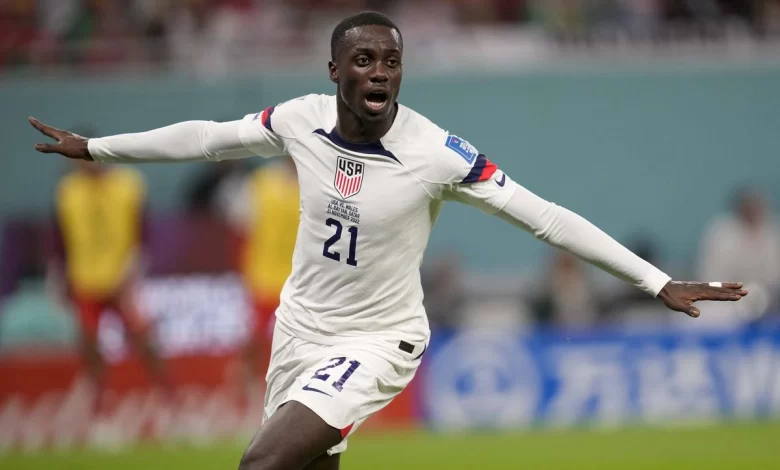 Timothy Weah has not only played at the FIFA World Cup but has also scored, a wish his father and current President of Liberia, George Opong Weah was unable to achieve in his time as a footballer.
Timothy has thus fulfilled his father's dream by scoring his first goal at the World Cup.
The 22-year-old broke the deadlock in the first half of USA's World Cup opener against Wales on Monday.
Timothy has thus become the first son of a former Ballon d'Or winner to feature at the FIFA World Cup.
George, the current President of Liberia, who scored 58 goals in 147 appearances with AC Milan was voted the 1995 FIFA World Player of the Year and he is the first African player to win the award and the only one to date.
The closest Liberia and Weah came close to playing at the World Cup was in 2002 when they almost upstaged Nigeria in their qualification group.
Liberia and Ghana both won five of eight games each and edged the Liberians to the group's only ticket to the Japan/Korea World Cup by just one point viz 16 to 15 points.
Interestingly, George Weah scored both goals when the Lone Star of Liberia defeated the Super Eagles of Nigeria 2-1 at the National Complex in Monrovia in July 2020.
Liberia's 2-1 loss to Ghana in July 2021 in Monrovia after the Black Stars had been beaten them 2-0 in the first leg in January 2001 swung the pendulum in Nigeria's way and the Super Eagles moved one point ahead of the Liberians after bashing Sudan 4-0 at the Al Merreikh Stadium in Omdurman same day.
Nigeria completed the recovery with a 3-0 defeat of Ghana at the Liberation Stadium in Port Harcourt on July 29, 2001.
Despite a brilliant playing career, Weah never got to play at a World Cup with his national team Liberia and he fulfilled his dream through his son who scored in his first appearance in the competition Monday night.