Transfer Market: Premier League remains unbeatable
English league has spent the most on transfers yet again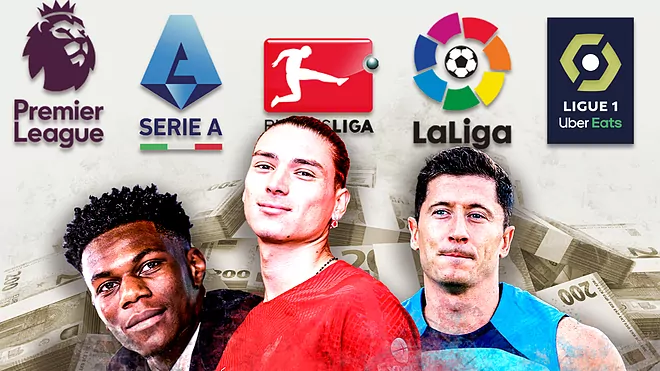 The summer transfer window is once again being dominated by the Premier League.
Investment by English clubs far outstrips that of the other four major European leagues.
LaLiga Santander is in fourth place, ahead of France's Ligue 1, according to Transfermarkt.es.
It is a demonstration of the financial muscle in the Premier League as, for yet another summer, it is the competition in which its clubs invest the most in new players. Manchester City, Chelsea and co. have spent 1.16 billion euros.
Of course, the restraint in spending is also noticeable in the Premier League as the figure for this summer 2022 does not come close to what was spent in the run-up to the 2019/20 season (1.7 billion) and, above all, 2017/18, in which the English top flight clubs invested 2.16 billion euros in new players.
Looking at the investment ranking of the five major leagues, Italy's Serie A is in second place (498.18m euros), followed by the German Bundesliga (378.43m euros), Spain's LaLiga (305.65m euros) and, at the bottom of the ranking, France's Ligue 1 (268.65m euros).
This summer, PSG do not seem to be in the mood for big spending, contrary to what they have done in the past.
Only LaLiga's big two, Real Madrid and Barcelona, are showing financial muscle by rubbing shoulders with the best teams in Europe.
The arrivals of Aurelien Tchouameni, Raphinha and Robert Lewandowski alone make up 60 percent of the Spanish teams' spending in the summer of 2022.
So far, Spanish clubs have spent 305.65m euros to strengthen their squads. This is the lowest investment figure since the summer of the 2012/13 season when they only spent 167.13m euros on signings.
The summers of 2018 and 2019 seem a distant memory, when Spanish clubs spent 1.004 billion euros and 1.51 billion euros, respectively. It was a time when LaLiga rubbed shoulders with the Premier League.
That said, this summer is breaking a very unfavourable trend for the Spanish league. In the previous two seasons (2020/21 and 2021/22) LaLiga ranked fifth and last in the investment rankings of the Big Five leagues.
For the second summer in a row, Arsenal are the highest spenders (so far), having spent 132m euros, 35m less than last season. In fourth place are Barcelona, who have become, thanks to the financial levers, one of the great entertainers of the summer with Lewandowsky and Raphinha joining.
And they could still climb to the top spot as the team that has spent the most in 2022 if the signing of Jules Kounde materialises. Bayern Munich are second with Sadio Mane and Matthijs de Ligt arriving. Manchester City, with the likes of Julian Alvarez, Kalvin Phillips and Erling Haaland purchased, are third.