Tunisia vow to overcome Covid-19 obstacle to pip Nigeria to quarterfinal ticket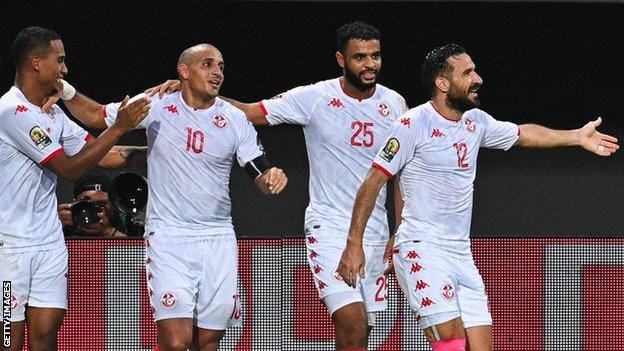 The Carthage Eagles of Tunisia have vowed to give more than a 100% effort and energy to beat Nigeria to the AFCON 2021 quarterfinal ticket when both sides meet Sunday evening at the Roumde Adjia Stadium in Garoua.
Despite being favorites to win their group, Carthage Eagles suffered to find a place in the round of 16 which they only reached as one of the best four third placed teams.
A 4-0 win over Mauritania ensured their pass, but it came between two 1-0 defeats to Mali and Gambia respectively. And the group was highlighted by the Tunisians missing three penalties, one in each game and via three different players.
Struck by many absences, it would be a tough mission for the 2004 champions, but they have promised to give their all to set a new start to their campaign.
"Our target was to reach the second round and we did that. We have a lot of confidence despite the difficulties we are facing. We know well how strong Nigeria is, but we are all ready to go far in this tournament.
Our morale is good, and we have experienced and great players. Luck was not on our side, but this is football. We wished that we are not affected by COVID-19, but we have to deal with the situation professionally. Everyone will give 200% of their powers", said assistant Coach Bilal Kadri
Midfielder Aissa Laidouni is also confident they can soar higher than Nigeria.
"We all play for the team. We just focus on the competition and how to work. We don't think of the problems. Our focus is the game, and we will do our best to win. We were not good enough against Gambia and were punished at the end. We took the lesson and will correct our mistakes and give our best. This is past now and our focus is what's coming.
We fear no one and comes the game you will find soldiers giving their all,' he said.