UEFA Champions League Review: Modric, Mbappe, Wöber, Ancelotti make history
Celtic and Rangers set an unwanted record for Scotland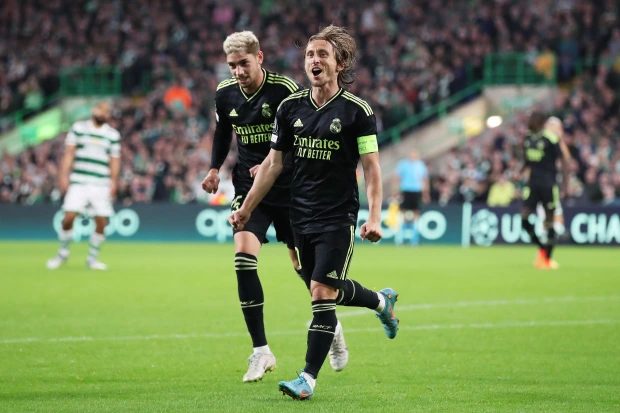 Real Madrid duo of coach, Carlo Ancelotti and midfielder, Luka Modric as well as PSG forward Kylian Mbappe made history Wednesday evening as the UEFA Champions League group stage games came to an end.
Modric set the ball rolling after opening scoring from the penalty spot for Real Madrid in their 5-1 bashing of Celtic at the Bernabeu.
The goal, scored in the sixth minute of the game made the Croatian the oldest player at 37 years and 54 days to score a penalty in Champions League history, surpassing Burak Yilmaz's previous record with Lille against Chelsea in March 2022 (36 years and 244 days).
Modric's coach also made history when he led the Los Blancos to victory against the hapless visitors from Scotland.
The Italian, in the process egualled Alex Ferguson as the manager with the most wins in the UEFA Champions League history: 102 wins for him, excluding the awarded victory in the 2004/05 Milan Derby.
In Italy, Mbappe latched on to an assist by Lionel Messi to put PSG ahead against Juventus to become the youngest player at 23 years, 10 months and 13 days to score 40 goals in UEFA Champions League history, overtaking Messi (24 years, four months and eight days in November 2011).
Still in Italy, Red Bull Salzburg's Maximilian Wöber at 24 was the oldest player in the Austrian club's starting XI against AC Milan.
He has thus become the youngest player in Champions League history to be his team's oldest starter in a match.
Meanwhile the Scottish Premiership duo of Rangers and Celtic set an unwanted record in the competition.
Celtic (2) and Rangers (0) only earned a combined two points in their UEFA Champions League groups this season.
This is the lowest ever combined tally by sides from a single nation with more than one entrant in a season in the competition.