Wizards 109-122 Lakers: Incredible King James Leads Lakers Past Wizards
Becomes first player over age 35 with multiple 50-point games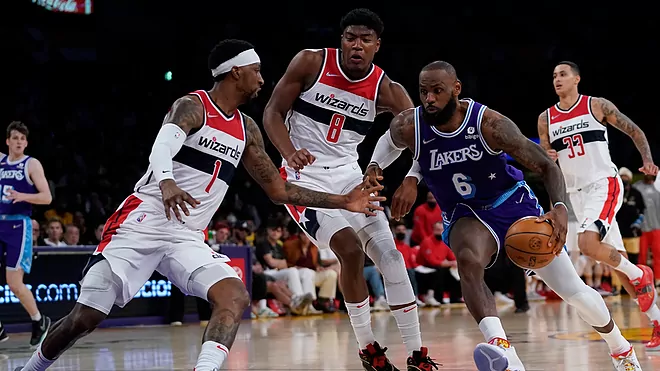 The Los Angeles Lakers (29-37) snapped a two-game skid with a win over the Washington Wizards (29-36) Friday night at Crypto.com Arena as LeBron James recorded his 14th career 50-burger.
James, 37, is now the first player in NBA history with multiple 50-point games after turning 35 years of age. He is also closing in on becoming the only player ever to reach at least 30,000 points, 10,000 rebounds and 10,000 assists.
James, who went 1-for-9 from beyond the arc in Wednesday's overtime loss to the Houston Rockets, opened his scoring night against Washington with a 3-pointer. He ended the game 6-of-9 from deep this time, shooting an overall 18-of-25 from the field to go with seven rebounds and six assists.
The King's six dimes put him two assists shy of reaching 10,000 in his career. He had one block in 36 minutes on the floor and shot a perfect 8-for-8 from the free throw line on a night that also saw Russell Westbrook make a bit of history, becoming the 11th player with most assists in NBA history.
Westbrook went 2-of-11 from the floor for five points, but made up for his poor shooting with nine assists in 31 minutes of action. He was not on the court down the stretch, leaving the offensive responsibility to Malik Monk, Austin Reaves and Talen Horton-Tucker.
Monk contributed with 21 points, THT got 15 in 30 minutes off the bench, and Reaves added 12. Lakers were outrebounded by 10 as a team on both ends of the floor, getting exposed for the squad's lack of size.