Wolves 0-2 Arsenal: Gunners Go Five Points Clear Of Man City
Premier League Pundit, Hoddle says Arsenal deserve position at the top of the table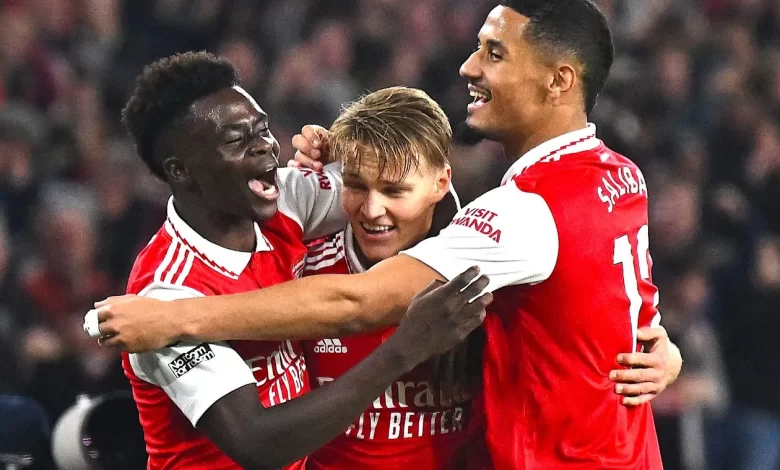 Arsenal extend their lead at the top of the Premier League table to five points, thanks to Martin Odegaard's second brace of the season.
Wolves, meanwhile, enter the break for the FIFA World Cup bottom of the table – there is a lot of work for new manager Julen Lopetegui to do in the remaining 23 matches.
Arsenal's two goals came in an entertaining second half in which the Gunners looked like the team that defeated Liverpool, Tottenham and Chelsea.
The first on 54 minutes was a brilliant team goal. Gabriel Jesus steps inside off the left, plays a gorgeous ball through the lines for Fabio Vieira. Jose Sa comes to close down the Portuguese, who squares, and Martin Odegaard taps into an empty net from a yard.
Odegaard was on song again in the 75th minute.
Gabriel Martinelli does brilliantly on the left, nicking the ball off Dexter Lembikisa and then backheeling into the path of Oleksandr Zinchenko. His cross deflects to Martinelli, who shoots, and Jose Sa saves straight to Martin Odegaard, who fires home.
Premier League pundit Glenn Hoddle says deserved all three points and deserve to stay on top of the table.
"Arsenal were the team that asserted the pressure, they were quicker with their passing, quicker on the ball. They're maturing, they've got steeliness when they play. They're not scared of anyone and they deserve it. Arsenal have got some nice players, a balance in their team and a squad that goes deep. There's a lot of plusses there."
Odegaard says they had to dig deep for the victory.
"We had to dig deep today, the 1st half was difficult. They defended well with players behind the ball. We showed our quality, kept patient and it paid off for us in the end. We talked about some tacticals at half-time and we did much better in the second half."