World Athletics Championships: Favour Ofili says she's going to Oregon to win
Nigerian to compete in 100, 200m and 4x100m events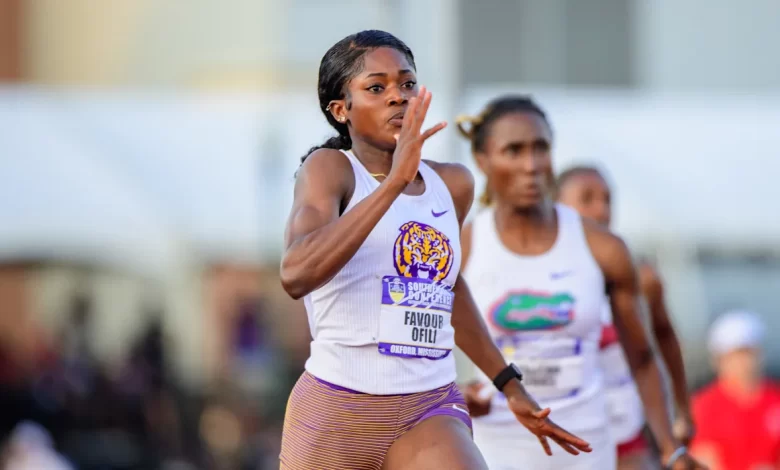 Nigeria's track and field star girl, Favour Ofili says she is going to Eugene, Oregon, venue of the World Athletics Championships to win medals.
The 19 year old will be hoping to become the first Nigerian sprinter, man or woman to make the podium in the 100m event and/or the second woman after Blessing Okagbare to win a medal in the 200m event.
"We (African sprinters) now believe in ourselves. We now believe that anything is possible," she told Olympics.com ahead of the 2022 World Athletics Championships.
Ofili broke the U.S. collegiate record in the 200m on 15 April, running to a 21.96, a Nigerian record and the second-fastest ever by an African.
That record lasted just short of two months before Abby Steiner set a new collegiate record clocking 21.80 seconds on 6 June at the NCAA Athletics Championships in Eugene.
In the 100m the Nigerian sprinter also recorded two sub-11-second times in one week – a wind-aided 10.90 and a personal best of 10.93 in April 2022 – moving her to third on the Nigerian all-time list.
On the back of her recent results, Ofili, who missed the Nigerian championships in Benin City penultimate weekend now returns to the Hayward Field in Oregon as one of the favourites for team Nigeria at the 2022 World Athletics Championships.
"My mandate is to go there and win regardless of what happens. Run each heat, semi-finals fast and advance. Once you get to the finals anything can happen. I am going there to win."
When Ofili felt she could make a name for herself on track, she settled on the 400m.
Her breakout gold-medal performances at the 2018 African Youth Games and the 2018 Buenos Aires Youth Olympic Games reflected her belief that she was capable of being among the best one-lappers in the West African nation.
She then anchored Nigeria to gold in the 4x400m relay after taking the 400m silver medal at the 2019 African Games in Rabat.
Earning a scholarship at Louisiana State University in the U.S and qualifying for Tokyo 2020 Olympics, although she was forced to skip the Games, changed her energy and motivation.
"I've really improved a lot because back home I was just doing 400m. But when I came here my coach checked and said, 'I think you would be good in 100m as you were already good in 200m'," she said of her move to the U.S.
"If you told me I was going to run 10.00 in 100m last year, I would have told you it's not possible. Not possible."
Her Olympic dreams were dashed after some of Team Nigeria's track and field athletes were excluded from the Games at Tokyo 2020 in 2021.
"Not competing at the Olympics and having to face that kind of trauma really demoralised me. But I was able to tell myself that that might have been a disappointment and I just had to pull myself together."
As the pretty Ofili hovered over the next steps, she grudgingly accepted competing at the 2021 World U20 Championships in Kenya last August instead.
She made the podium in each of her three events – clinching two bronze medals in the 200m and 4x100m relay, and anchoring team Nigeria to gold in the 4x400m.
"The U20 was miraculous for me, I just went there to have fun because I didn't practice before that competition. I was always crying because I didn't compete at the Olympics. I didn't put in work for the U20, it was a miracle just like last year was a miracle year for me."
The effervescent Ofili is easily bearing the weight of expectation at Hayward Field and is full of hope that a final is achievable in Oregon – an important stepping stone for her young sprinting career.
"I am excited to go back to Eugene (after the NCAA finals). I have run there already but I feel that I still have to do something there. Running with the best people will be a great privilege," she said, outlining her Championship goals.