World Athletics Championships: Nigeria 4x400m mixed relay team to share $8000
Dubem Amene, Patience Okon-George ran fastest splits in final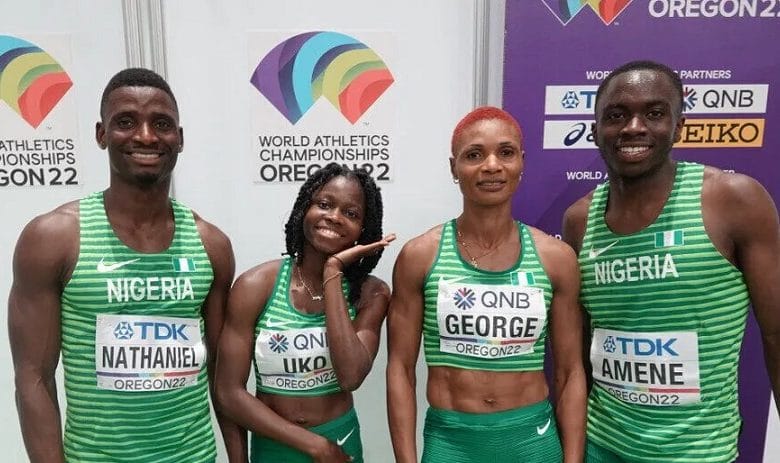 The Nigerian 4x400m mixed relay quartet of Imaobong Nse Uko, Nathaniel Samson, Dubem Amene and Patience Okon-George will share the $8000 prize in prize money for its sixth place finish.
The money is part of the US$8,498,000 prize money which is on offer at the 18th World Athletics Championships holding at the Hayward Field in Eugene, Oregon, USA.
The Nigerian quartet ran 3:16.21 to come sixth in the final decided in the early hours of Saturday to become the first 1600 mixed relay team to get to the final of a global championships.
Meanwhile the duo of Amene and Okon-George ran the fastest legs in the team's historic run in the final.
Amene, the 19 year old who ran in the final of the 400m event at the World U20 championships last year in Nairobi, Kenya ran an impressive 45.66 seconds third leg before passing the baton to Okon-George, the 30 year veteran quartermiler who ran 51.94 seconds to ensure the team finished above Italy and Ireland .
Samson Nathaniel, the lead off runner ran 46.66 seconds, the seventh best out of the eight athletes that started the race while Nse Uko, the reigning world U20 champion ran 52.17 seconds after receiving the baton from Nathaniel.
Interestingly, only Amene ran a slower split than he did in the semis while Nathaniel (46.12), Okon George (50.72) and Nse Uko (51.96) ran faster splits.
The prize money in Oregon is as follows:
Individual events
Gold: US$70,000
Silver: US$35,000
Bronze: US$22,000
Fourth place: US$16,000
Fifth place: US$11,000
Sixth place: US$7000
Seventh place: US$6000
Eighth place: US$5000
Relays (per team)
Gold: US$80,000
Silver: US$40,000
Bronze: US$20,000
Fourth place: US$16,000
Fifth place: USD $12,000
Sixth place: US$8000
Seventh place: US$6000
Eighth place: US$4000