30 Days to Abuja International Marathon: Organisers unveil lead-up activities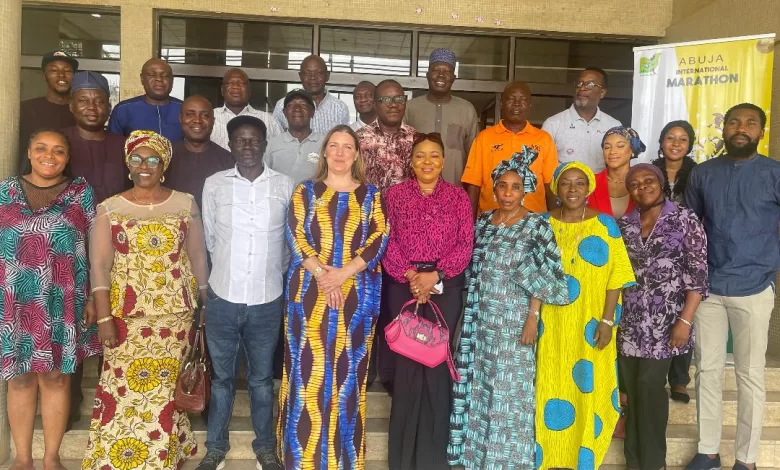 History will be made on April 29, 2023, when the first international marathon will take place in Federal Capital Territory (FCT).
An initiative of Unicentral Resources Generation Limited and the Federal Capital Development Authority (FCTA) the race, the Abuja International Marathon, is the first of its kind in FCT.
To make it a memorable experience for elite runners, both Nigerians and foreigners, fun runners and students, the management of Unicentral, the licensee of Abuja International Marathon led by Zsuzsanna Ogunmiloyo and top officials of FCTA led by Director of Sports Luka Istifanus met at Ogun State House office of Unicentral to fine-tune the program for the last 30 days.
The race which start at City Gate and ends at the Car Park behind the Eagles' Square is in three categories the full marathon (42.195 km) the 10 km Family Race and the 5km for students.
The races will be preceded by a 10 days Marathon Expo at The Pavilion beside International Conference Center.
Istifanus revealed at the meeting that arrangement has been concluded with the Department of Tourism FCTA to give visitors coming for the race a taste of FCT, "we will provide transportation and we also trained tour guides that will take visitors and residents who are interested in major tourist centres in the FCT around the city".
Istifanus appealed to residents of FCT to visit the Expo and to also come out and cheer runners on race day.
'The biggest beneficiary of the race are residents of FCT, apart from the health benefits that come with running, the Abuja International Marathon will boost our economy, boost tourism and engage and empower our youth positively."