FIBA 2023 World Cup: Sports Minister Salutes Gallant D'Tigers
Says Home Based Players Have Come Of Age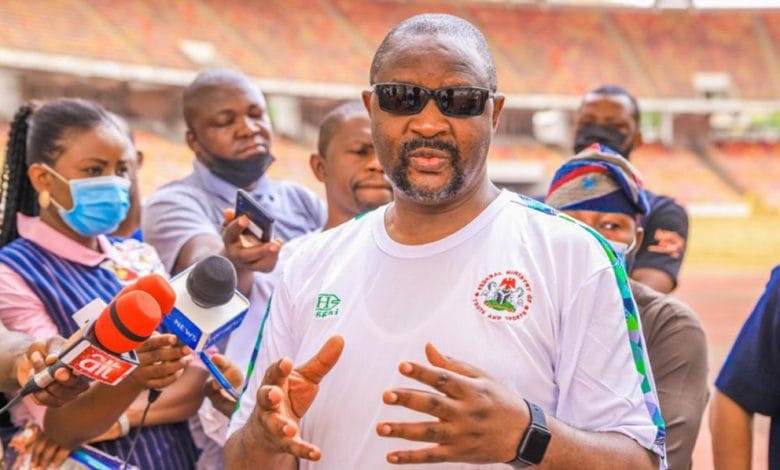 The Sports Minister, Sunday Dare has heaped encomiums on Nigeria's senior men's basketball team, D'Tigers for their resilience and commendable showing in the last round of the FIBA 2023 World Cup Qualifiers for Africa that ended in Luanda, Angola on Sunday.
D'Tigers won two of their three games, narrowly missing out of a place at the FIBA 2023 World Cup after finishing in fourth place in their group where the top three teams booked automatic spots.
Nigeria had defeated Cote'd Ivoire 72-63 in the first game, ending the Ivoriens' unbeaten run in the qualifiers before beating Guinea 62-59 in the second game.
However, before their third and final game against Angola on Sunday, news was already out that the final World Cup ticket had gone to Cape Verde but the Nigerians still put up a credible showing despite losing 65-59 to the hosts.
In spite of the World Cup miss, the Sports Minister said the efforts of the Nigeria Basketball Federation(NBBF), the coaches and players are well appreciated.
His words: "As painful as it is to narrowly miss out on the World Cup, we must appreciate the NBBF, the coaches, officials and players for their gallant performance. They played with honour and pride, and gave this campaign their 100%.
"It was an opportunity given to the home based players and coaches to show their potentials and they did not disappoint.
"I believe this will open them up to many more opportunities and exposure. With more time together, they will get even better and achieve more for Nigeria in future competitions," the Minister said.