Fraser-Pyrce happy to end season the way she started-running 10.6!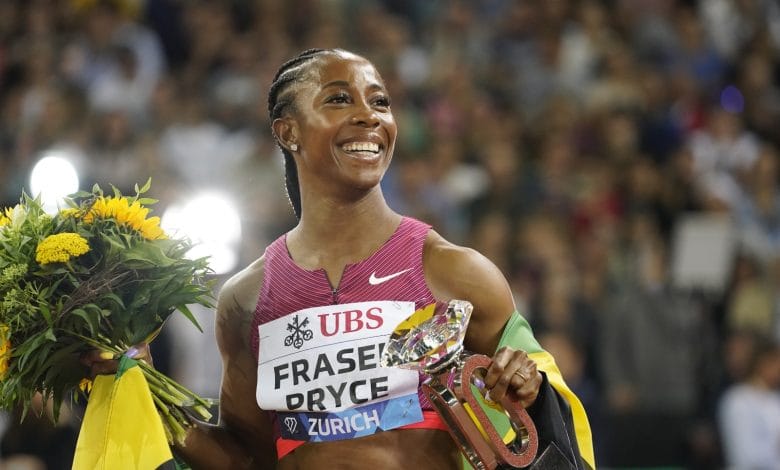 Reigning fastest woman in the World Shelly-Ann Fraser-Pyrce bounced back from the disappointment of her first loss over the 100m event last week to win in Zurich Thursday and be crowned 2022 Diamond League champion.
The Jamaican was beaten by fellow Jamaican, Shericka Jackson last week in Brussels by the narrowest of margins (10.73 to 10.74 seconds) but the reigning World champion proved who the very best is at the last major event of the year, the Diamond League final in Zurich.
Fraser-Pyrce scorched to a 10.65 seconds finish and created a daylight between her and Jackson who came second in 10.81 seconds while Ivory Coast's Ta Lou Marie-Josée came in third in 10.91 seconds.
Fraser-Pyrce was delighted after the race and said her focus is firmly on next year when she will be going for her sixth 100m gold after winning in Berlin (2009), Moscow (20-13), Beijing (2015), Doha (2019) and Oregon (2022).
"I am really looking forward to next season, and I would love to come again. I am just excited to be here, and to have won. I am feeling good to be able to come here and compete,' she said after the race.
The 35 year old is also delighted to end the season the way she started.
She began the season in May, running 10.67 seconds at the Kip Keino Classic in Nairobi and ended with a 10.65 seconds performance in Zurich.
"This was remarkable, and I am very proud that I came away with a 10.65 – I started with a 10.6 and I finish with a 10.6 so there is nothing more I could ask for."
Fraser-Pyrce is super delighted that a packed stadium witnessed the great night of track and field at the Lezigrund stadium in Zurich.
"When I came out here, and saw the crowd, I said to myself "Oh my God, there is a lot of people!", but you know, that is what track & field is all about.
"We want to have full stadiums, and sold out crowds. We definitely want to feel that energy, as it really helps us athletes.
" We don´t want to be in a dead stadium where nobody understands what is going on. To be able to see the excitement and to hear the silence is beautiful.
"I am glad they were able to see good times. I got my hair done in Zurich. I just found a stylist, and needed to get my braids done. I hope you guys can offer me some residency here,' she said.