Iwobi's market value rises again, targets 29th start in 29 EPL games in 2022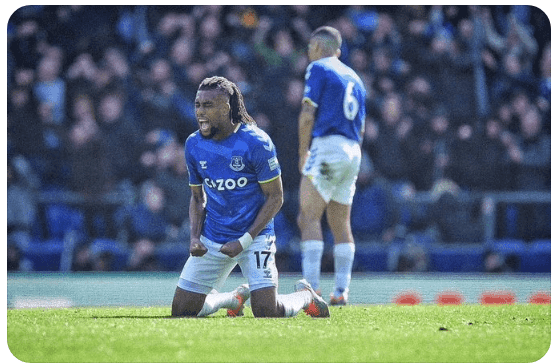 Everton forward, Alex Iwobi's market value rose for the second time in two months after the latest transfermarkt update on Thursday.
This rise in value is ostensibly because of the 26 year old Nigerian's return to form this year after former Chelsea legend, Frank Lampard replaced Rafa Benites as Everton manager.
Iwobi has started all the 28 Premier League games he has featured in this year (2022), scoring twice and bagging six assists.
The Nigerian has thus been rewarded with a further rise in value. The former Arsenal player is now valued at €25m, up by €3m from his €22m valuation in September.
The Super Eagles attacking midfielder joined Everton in August 2019 and his value rose to a career high €£32m the following month.
The Nigerian, bought from Arsenal for £34m failed to justify the huge money the Toffees splashed to price him away from the Emirates stadium and his market value thereafter began a steady drop.
He dropped to €25.5m in April and October of 2020 and in 2021 he first dropped to €22m in March and retained that valuation when the transfermarkt was updated three months later.
Iwobi ended the year 2021 valued at €18m but the arrival of Lampard changed the Nigerian's fortunes and he has become the Toffees most important player so far this season.
He started the upward climb in September 2022 when he was valued at €22m before the latest valuation of €25m.
Meanwhile, Iwobi will be hoping to start his 29th Premier League game in 29 appearances this weekend when Everton host Leicester City in a Premier League match week 15 fixture at Goodison Park.
Iwobi has scored once this season and bagged five assists.